Our Story
Our Philosophy. Our Ritual.
We know rituals matter. A certain pair of hockey socks. A lucky mouth guard. A pre-game song that gets you in the zone. Here at Ritual Hockey, it's the same. We're ritualistic about design, every single day.

We didn't set out to manufacture hockey gear for the masses. There are plenty of brands making good sticks, but we wanted to make the best sticks. Hockey equipment for elite players. Beautifully crafted, designed with precision and engineered to the millimeter. Each of our sticks is built for a specific style of play, with precise hitting ability and supreme feel. Gear that looks sharp, without sacrificing performance.

Our rituals involve months (sometimes years) of calibration and development. Our designers and engineers work through prototype after prototype, mixing high-tech materials with leading-edge sports science and creative flair. If a product doesn't meet our lofty benchmarks, we don't release it. Simple as that.

This is hockey gear for athletes and edge-seekers, used by some of the best players in the world. It's hockey gear for people who understand: rituals are everything.
Design
Eye-catching design is one thing. High-performance engineering is another. This is where the art comes in: blending sharp aesthetics with real science.

We spent years assembling a world-class team of sports scientists, designers and product engineers who work together to build the perfect stick. Ritual Hockey gear is designed in Australia, crafted by specialists around the globe and stress-tested by International hockey players. Every one of our products goes through a rigorous prototyping phase. And we mean rigorous. A single stick can take over 10 hours to actually craft.

Each Ritual stick is also designed for a particular style of play. There are no 'generic sticks' in our range. We've designed a stick for low and fast aerial maneuvers and one for more upright, traditional players. There's a stick for drag-flicking specialists and another for goalies. It's all about tailoring a stick to your personal game.
Materials
The world's finest hockey sticks require A-Grade materials. So we take a lot of care when it comes to sourcing. Our composite Kevlar and carbon comes from aerospace manufacturers in the Netherlands and Japan (widely regarded as the best in the world). Our bags are forged from hard-wearing Korean 1000D Fabric, triple-stitched and lined with 420D Oxford Nylon. We test and optimise everything: from Silica stick faces to the hand-wound Vapor Pro Grip.

Perfection is what we're shooting for, but that isn't something that just happens. We're ritualistic about it. We work at it, every day. Honing our craft, edging a little closer each time.
Nathaniel Nelson
Founder
Nat is a self-confessed 'gear freak'. After graduating university with a science degree, he followed his passion for hockey equipment, working in management, retail, design and development for several leading hockey brands. Nat has dedicated his career to hockey. It's taken him to all corners of the globe, joining hockey communities and meeting professional gear manufacturers. He is now a leading hockey expert. Ritual is the culmination Nat's experience, passion and (slight) hockey obsession.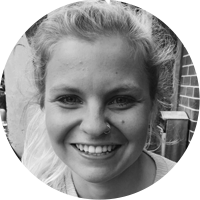 Sabrina Heesh
Marketing & Sponsorship
Sabbie is an elite hockey player and (just quietly) goalie for the England women's national team. She is also our Ritual marketing guru. If you've ever contacted us for customer support or sponsorship enquiries, you've likely chatted with her. Sabbie studied Exercise & Sports Science at university and quickly found her feet in sports marketing. She's currently specialising in digital marketing and plotting England's world hockey domination.
James Jeffrey
Luggage & Soft Goods Design
The bag man. James is an Australian who's been in the bag game for years. He's lived and worked all over the world, designing supreme-quality bags for Crumpler, Knomo and Bellroy. He runs his own bag and brand development HQ in Torquay, Australia.
Trudi Nelson
Brand Manager
Trudi has shaped our brand from day dot. She works closely with Nat on Ritual's business strategy, product design and overall brand identity. Before getting into the world of competitive hockey, she spent 11 years as Brand Manager for a leading Australian online brand, keeping a sharp eye on the marketing team.
Fran Bacardit & Arnau Vila - Cinematography
Fran Bacardit & Arnau VilaCinematography
Fran and Arnau are Ritual multimedia experts. They bring the brand to life on film. Working out of their studio in Barcelona, Fran and Arnaud have shot on location pretty much everywhere, from remote South America and industrial USA to sun-soaked European beaches. They also run the cinematography team at Film Easy.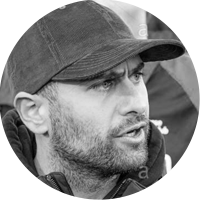 Pasha Gademan
European Sales Manager
Pasha is a man of many talents. He has degrees in Journalism and Communication Science, and is also highly regarded hockey coach. Pasha works closely with Sabbie to manage our team of international athletes, as well as looking after our European sales. Pasha coaches at Almeerse Hockey Club and is involved with the Dutch men's international program.
Raoul Luescher
Composite Materials
There's nothing Raoul Luescher doesn't know about carbon. He's our composite materials expert, with over 20 years of experience in high-performance engineering. Raoul has worked with Boeing Aerospace, the Australian Defence Department and the Australian Institute of Sport, plus several top Olympic athletes.
Josh Emrich
Graphic Design
If we make hockey players look good, Josh makes us look good. He's our branding and design guru, based in Indiana. We work closely with Josh on all aspects of the Ritual Hockey brand identity.
Joel Wells
3D Industrial Design
A Melbourne born and based Product Design Engineer, Joel's passion for innovation in sport followed him into university where he studied Industrial Design at RMIT. Professionally Joel has successfully started a number of design consultancies, with specialties ranging from consumer electronics to furniture, elite sports and medical devices. Over his 12 year career, he has worked locally and internationally for such clients as Nike, Adidas International, Under Armour, Coca-Cola, Hewlett-Packard and Ford, while also lecturing in Product Design Engineering at Swinburne University.
Elmar Krop
Photography
Based in Amsterdam, Elmar has an impressive list of clients under his belt. Our elite athletes love working with Elmar and really appreciate his personal care and professional approach. Not to mention his amazing photography skills!